This shop has been compensated by Collective Bias, Inc. and its advertiser. All opinions are mine alone. #nothinglikeahug #CollectiveBias
The holidays are a crazy time for everyone, but especially if you're a new mom. With all the hustle and bustle in the holiday season, it can be a real struggle to keep up when you're in the trenches with a new baby!
Luckily, I just had my fifth little one, so by now I'm a total pro!
There are a few key lessons that I learned along the way, and I'm sharing them with you today so you don't have to learn them the hard way.
Check out these 5 crazy holiday hacks for new moms… They'll change. your. life!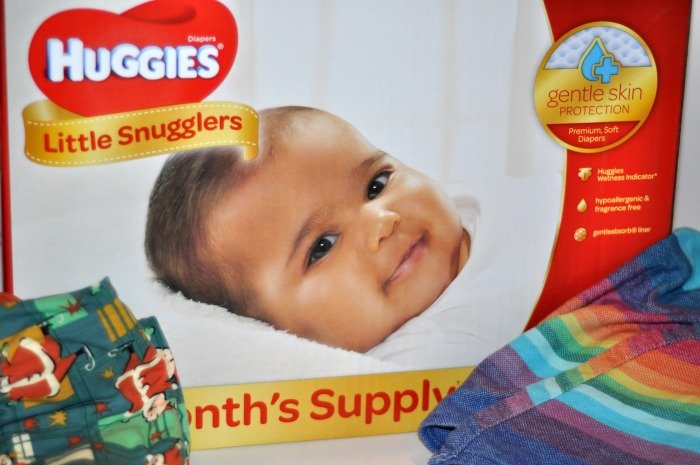 Click on the image above to shop for Huggies® diapers!
5 Crazy Holiday Hacks for New Moms
If you're anything like me, facing the holidays with a new baby feels totally nerve wracking. I get it!
You're off routine, in new places, around people you don't always see, and don't even get me started on the noise…
But I'm here to tell you that you can do it!
With these 5 crazy holiday hacks for new moms, you'll be feeling like a seasoned pro, even when you visit your great aunt Mildred!
Wear your baby in a baby carrier! Okay, if you don't have a baby carrier yet, you NEED one! They save my sanity in the holidays when I'm stressed and the baby's stressed and we really don't want to play "pass the baby". Life. Saver.
Shop deals to save cash! Having a baby is expensive, y'all. Doing it right before the holidays when you're expected to drop loads of cash on all sorts of things? Even more expensive. That's why I love being a member of Sam's Club! I can even use the Sam's Club Pick-Up Service and save money every single time I go. Take advantage of already low prices by shopping at Sam's Club.
Pick a cute and comfy outfit for holiday events! Seriously, you just had a baby. You deserve to look cute. Plus, you don't have to go all out in a crazy dress and heels. Grab some totes adorbs Christmas themed leggings and some cute black booties. You'll look fab and be super comfy too! (Bonus hack: make sure you wear a nursing friendly top if you're breastfeeding!)
Keep a list of holiday activities! Okay, everyone knows when Christmas is, but there's a ton of different activities that go into the holiday season. Christmas tree festivals and cookie decorating with mom, they're all special and need to be remembered. When you're up all night with a fussy baby, though, things can fall through the cracks! Keep a running list of what's happening today, tomorrow, and this week to stay up to date!
Stock up on Huggies® Little Snugglers! Oh my friend. If you only use one of these crazy holiday hacks for new moms, let it be this one. Stock up on Huggies® diapers from Sam's Club before the holiday madness. You don't want to realize on Christmas Eve that you are out of diapers and have to fight the Christmas crowds. Trust me and stock up now so you can sail through the holidays without the stress!
A diaper is on your baby all day long, every day and night, more than any other garment, so nothing is more important than how it feels against your baby's skin. Huggies® diapers are designed to give your little one a comfy fit over time no matter what stage your baby is in. From newborn all the way through potty training, Huggies® has something for your baby every step of the way. It's like a hug they can take with them.
When you're stocking up on your Huggies® diapers, you can get a limited Time Instant Savings offer on Huggies Diapers, Pants and Wipes at Sam's Club this holiday season. We love using Huggies® Little Snugglers diapers because they help keep your newborn's perfect skin clean and healthy and they're the fastest growing brand in hospitals!
They have the best value on Huggies® Diapers, Pants and Wipes for your growing family at Sam's Club. I love saving time and money when I shop so that I can spend more on moments with family (and napping, because having a baby is tough, y'all!).
You can also get instant savings on Huggies® products with instant savings (Buy any 1 Huggies® product at Sam's Club and get $4 in Instant Savings from now through 12/25!) and you can get an additional $4 savings through Ibotta when you buy Huggies® at Sam's Club!
If you're ready to take these 5 crazy holiday hacks for new moms and make this your best holiday yet, make sure you pin this post to reference again and again all season long!