This shop has been compensated by Collective Bias, Inc. and its advertiser. All opinions are mine alone. #ThinkOutsideTheWipe #CollectiveBias
It's Halloween time, which is a favorite holiday around here. As a homeschooling family, naturally that means we're doing TONS of spooky Halloween activities and crafts throughout the whole month. One of our very favorite crafts was this adorable Frankenstein face! The one problem with our Halloween crafts? They make the biggest messes. I mean, this Frankenstein face got green paint absolutely everywhere! But by now, I've found this 2-minute tip to clean crazy homeschool messes!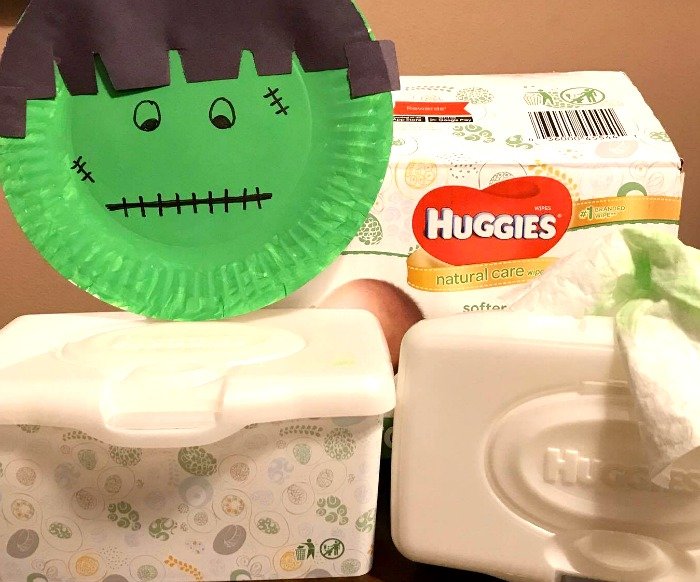 (Hover over the image above to purchase!)
How We Made Our Frankenstein Faces
First we painted our paper plates green.
While we waited for it to dry we watched our favorite spooky movie.
Next we cut some Frankenstein hair out of black construction paper and pasted it on.
We finished up with drawing on a face and some Frankenstein stitches with a black sharpie.
Isn't that so simple and fun?! But it made a HUGE mess. Green paint all over my kitchen table! Thank goodness I've got my 2-minute tip to clean crazy homeschool messes in my back pocket!
This 2-Minute Tip to Clean Crazy Homeschool Messes
Grab some Huggies® Natural Care® Wipes – You're a mom, I know you've always got wipes on hand! I love to stock up on Huggies Natural Care Wipes at Sam's Club! (PS: Sam's Club even has a subscription service so I never run out!) Plus, Huggies wipes are a necessity, no matter the mess or occasion!
Wipe up your crazy homeschool messes – I'm not kidding, that's it. It could have been a 2-second tip, but sometimes we make really big messes that take a few wipes!
The fact is, messes happen, whether big, small, or any size in between! Sooner or later, you have to look at that mess at your sweet kiddos and smile. I'd like to inspire mammas everywhere to embrace the mess and approach cleaning up crazy homeschool messes with confidence, all with the help of Huggies Wipes!
Huggies Natural Care Wipes are the easiest way to clean crazy homeschool messes, and they're clinically proven to wipe away 99% of germs while being free of alcohol, parabens, and MIT! They're great for spills and messes because they trap, lift, and remove germs for a safe and gentle clean. So gentle, in fact, that I even feel great using it to get paint off my kiddo's hands and faces! They're infused with a touch of aloe, hypoallergenic, and free of any harsh chemicals that can be rough on the skin. Oh, the portable packs fit anywhere, I always keep my soft pack in my purse for on the go homeschool messes!
As a Sam's Club Member, these Huggies Natural Care Wipes are a total no-brainer, and you can search for them here. If you're ready to use this 2-minute tip to clean crazy homeschool messes, grab some today!