This shop has been compensated by Collective Bias, Inc. and its advertiser. All opinions are mine alone. #GoldfishGameTime #CollectiveBias
My kiddo is OBSESSED with sports lately, and I'll be frank… I don't get it.
But since I'm all about making fun activities surrounding their interests, I got the BEST idea while I was getting my groceries at Walmart.
See, I saw the Pepperidge Farm® Goldfish® crackers Cheddar 30 oz. Carton, and I was instantly inspired…
GOLDFISH CRACKER FOOTBALL.
I know, I know, we tell our kids "don't play with your food", but for this super fun indoors activity? I think you'll make an exception!
My kids had a BLAST playing Goldfish cracker Football, and I was the coolest mom EVER.
You know, until I told them to clean their room. heh.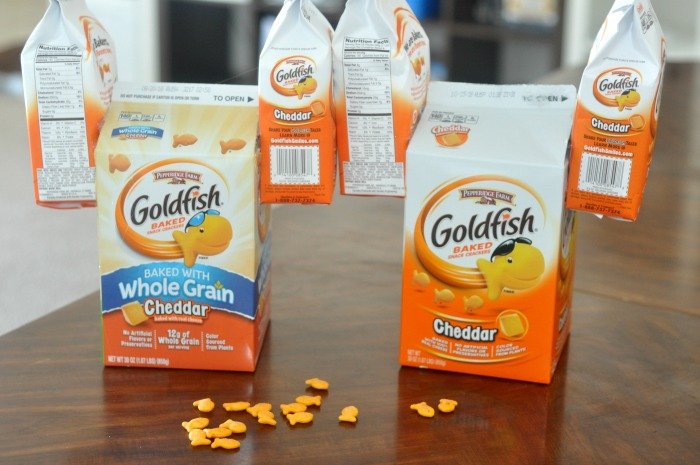 (Hover over the image to purchase Goldfish Crackers today!)
What You Need to Play Goldfish Football
Two 30 oz. Cartons of Goldfish crackers
Four smaller Bags of Goldfish crackers
Hot Glue Gun & Hot Glue
How to Play Goldfish Football
Okay, first you're going to heat up your hot glue gun. Because, well, it doesn't work well unless you heat it up!
Then you're going to glue two of the smaller packages of Goldfish crackers to the sides of the big carton, so that it looks like a field goal.
(A field goal is the big yellow 'Y' at the end of football fields. You're welcome!)
And then repeat with the second set of supplies.
Then the fun part…
You hand your kiddo some Goldfish crackers, and let them flick the "Goldfish cracker footballs" towards the field goal you just made!
They're trying to get the Goldfish cracker through the two smaller cartons to make the goal!
My kids had a BLAST going playing Goldfish cracker football.
You can put the two field goals across the table from each other and form teams to make this a whole family indoor activity.
My husband even had fun playing with the kids!
Plus when it's nice outside, you can bring the field goals outside to play in the sun.
I'm allll about the versatility!
And, because I'm that mom that's always trying to make everything educational, I maybe had my kiddos counting out their Goldfish crackers as well.
Whatever gets them learning, right?
We had so much fun celebrating my kiddo's love of sports with Goldfish crackers. We were able to bring in the surprise and delight of game time fun, and we could do it indoors or outdoors! Need more game inspiration? Click here to view more Goldfish cracker games!
We love that Goldfish crackers are the perfect versatile snack. We always keep some on hand, so when I saw the exclusive rollback on 30 oz. cartons for $6.46 in-store at Walmart, I knew I needed to stock up! I purchased the Pepperidge Farm® Goldfish® crackers Cheddar and the Pepperidge Farm® Goldfish® crackers Whole Grain.
And definitely make sure to pin this post so you can remember it when you're stuck inside and dying for a super fun activity like Goldfish cracker football!